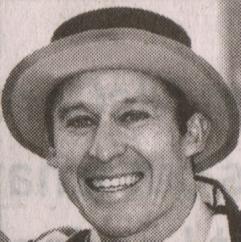 Scott Kermond plays Cosmo in Singin' in the Rain, which opens at Melbourne's Regent Theatre tonight, then tours to Brisbane, Adelaide and Perth.
What's the worst thing a reviewer has said about you?
That my speaking voice (but thankfully not my singing) sounded like a bandsaw in a 1995 production of Cinderella.
Where do you derive your creative inspiration?
At the core of my family is vaudeville and slapstick, which has inspired me to write a musical about their determination to succeed.
What's the best way to get rid of creative block?
Start a new project, walk away from it or run up a wall.
Was there a single moment or experience that set you on your career path?
At age 17 I sang a cabaret number with Sammy Davis Jr at an intimate after-show party and knew then it was time to do it in front of the footlights. Later, after Guys and Dolls, he said this business needs "talented young cats" like me to keep it going.
If you hadn't become a performer, what might you have done?
Aircraft pilot.
What single work of art should the world not live without?
Slapstick.
What artists, living or dead, do you most admire?
The Ratpack -- Sammy, Frank Sinatra, Deam Martin. They determined their own destiny and had an incredible lifestyle back up by amazing talent and strong bonds. It's an era I would have loved to be a part of.
What book is on your bedside table?
John Hargreaves: A Celebration, compiled by Genevieve Picot and Tony Watts.
What disc is in your CD player?
Bobby Darin: Live at the Sands.
What have you seen recently that you loved?
I haven't seen much since the show opened in Sydney in May, but I loved David Campbell in Shout.
What have you seen that you hated?
Graffiti. It's pointless.
What ritual do you go through before performing?
Stretch and focus by going through the show in my head. The number Make 'em Laugh in the show is such a routine of timing that I always have to use positive reinforcement to physically and mentally get through it.
How do you unwind post-show?
A hot shower, a meal at midnight and a light beer.
What do you like and dislike the most about performing alongside your wife, Katie Scott Kermond, and eight-year-old son Zan in Singin' in the Rain?
Show-business separations are tough, so it's wonderful and rare that we can all experience the journey together. No dislikes.
What do you like and dislike the most about your role in Singin' in the Rain?
It is the perfect role to show off my skills to the general public. I've been known in the industry for 20 years but it's all new for the general public.
What's your greatest ambition?
Doing cabaret in Las Vegas with a 30-piece swing band. I could then die happy.