Wait for me! You'll get lost without me! I'm supposed to show you around, so here I am. My name is Bianca. It's my job to show you around Ruth's little cinema here. Actually, my *real* job is with the Rescue Aid Society, but I'm here at the moment ... I do hope they can manage without me. Anyway, on this page you'll find lots of things to do with lots of movies. They're all Ruth's favourites, and range from the old classics like Labyrinth and Legend to the much newer ones, like The Lord of the Rings and Harry Potter. Just keep scrolling there and you should be able to find what you're looking for. If you don't find what you're looking for, e-mail Ruth and she'll see if she can find it for you. So ... have fun!

Ruth: Nicely said, Bianca -- thankyou. As well as information about favourite movies, I will also be including on this page biographies for some of my favourite actors and actresses. Should your favourite movie or actor not be included here, feel free to e-mail me, as Bianca said, and I'll see what I can do. There's more information about that sort of thing below, so keep scrolling and you'll find it. Otherwise, enjoy what's already up here. Note that Disney movies aren't included here because of the section already dedicated to them. Now ... enjoy the movies!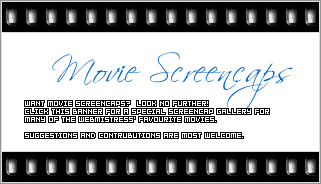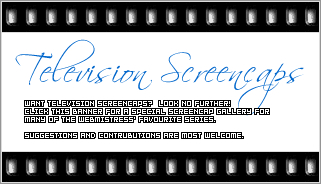 Alright then, now -- I have tried to make it obvious which banners lead to which movies, so you should be alright and you should be able to find the movie you're looking for. Within each movie page, you'll find the story, the script (if it's available), the characters, the songs (if any), lots of pictures, information about the main players in the movie, and lots of other stuff that I'll probably just think up to add while I go! This means that these pages will be constantly growing and I'll always be adding new movies and new sections within the existing movie pages. So make sure you take a look at the updates page, then head on over here to see if anything's changed. I bet it will.


I do *not* own the rights to any of the movies on this page -- unfortunately. I'm merely a fan providing this information for other fans. If your favourite movie/s or even actor/s and actress/es are not represented here, and you feel they should be, talk to me and I'll see what I can do for you. It may take a bit, depending on whether I know it, him or her, and how well. If I don't, I may write back and ask for some assistance -- you know, pictures, a synopsis if it's a movie, biography help if it's an actor/actress, that sort of thing. If I do, it shouldn't take me too long to whip up a page. I will notify you when the page is finished and you can either marvel at it or make further suggestions as to how it may be improved. Of course, you can always submit things for the movie pages that are already up here! Now, if you've seen enough, click on the button below and head on back to the site's main page.